Khyber Agency
Khyber Agency is a district of the province of Khyber Pakhtunkhawa with an area of 2576 square kilometers. People usually speak Pashtu. It has four Tehsils
Bara Tehsil
Jamrud Tehsil
Landi Kotal Tehsil
Mula Gori Tehsil
A permission letter is required from fort Bala Hissar fort for visiting Khyber Agency, Jamrood fort, and Khyber rifles officers.
Historical Spots in Khyber Agency
1- Bab-e-Khyber
Khyber Agency border starts after crossing Karkhano market on the Torkham road in Peshawar city. Try to visit this area with a local person. A little further on is the Khyber Gate, constructed in 1964 with carved stones.
The history of the Khyber pass is engraved near Bab-e-Kyber in both English and Urdu languages. Apart from the invading emperors in different periods, a brief history of the nations that passed through here and a sketch of historical battles are also given.
Its picture is printed on the ten-rupee note. The area of Kyber Pass is in Koh Suleman.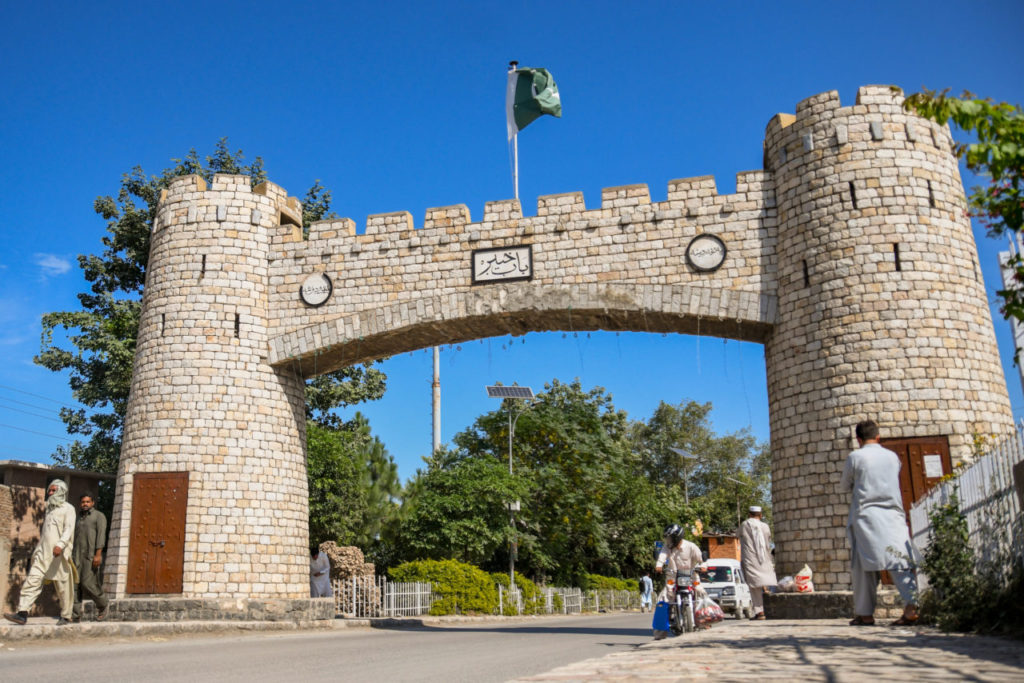 2- Jamrud Fort
Khyber Pass starts from the Jamrud area 6 km forward to Bab-e-Khyber. Jamrud fort was reconstructed by army commander in chief Hari Singh Nalwa of King Ranjeet Singh in 1823 on the traces of an old fort. The fort is built with rough stones and mud. Ameer Singh Nalwa was killed in the war of Ameer Kabul and was buried in this fort.
3- Regimental monument
The Khyber Pass has monuments of the British officers killed in World War II (1878-79). The medals of regimental forces that were appointed on the Khyber Pass for safety are also engraved on the big stones.
4- Ali Mosque
King Babur stayed in this mosque and fixed camps here when he was coming to Peshawar from Kabul. It is the narrowest area of Khyber Pass. There is a rare valuable stone.
It is narrated that it was thrown on Hazrat Ali (R.A) by a woman while he was offering prayer. It is 75 % out of the mountain and 25% inside it. Ali fort is at the top of the Ali mosque. (It is only a narration but historically it is not proven).
It is in the northwest of Shagai fort. Shagai fort is at an altitude of 2300 feet from sea level and was constructed in 1920 by the British regime. F.C are appointed there.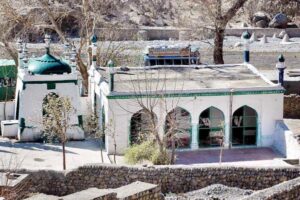 5- Sphola Stupa
The Sphola Stupa is 10km from Zirai village. And Landi Kotal is 7km beyond this stupa.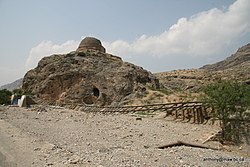 6- Landi Kotal
Landi Kotal is 47km from Peshawar and is located at an elevation of 1072 meters from sea level. Landi Kotal is the highest point of Khyber Pass.
This Frontal railway station has brief history written near the ticket house. Khyber rifles' garrison is located in this large shopping center. Delicious Karhai Ghost ( a local dish made with meat) of Landi Kotal Bazaar is famous. You can relish tortillas and Karhai with Qahwa.
7- Khyber Rifles Officer Mess
This headquarters of the pickets of Khyber Pass in Landi Kotal holds significant importance. In 1980, a British military officer came to the lawn drunk and found a tree running away. He ordered to tie the tree with chains. His order was fulfilled. That tree is still tied in the chains.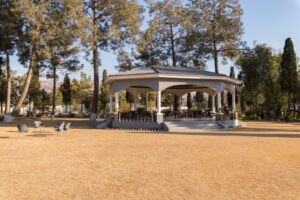 Quid-e-Azam and other high-ranked officers visited this place too. Their pictures are hung in the mess hall of officers. There are a few sundials in the world that move with the sunlight. One of them is fixed here. It still tells the correct time.
8- Machini Check
It is the last point on the Pak Afghan border. A map on the ground gives information about Pakistan and Afghanistan check posts. Gallows are there which were constructed by king Taymor Ling.
9- Torkham
Torkham is located on the Durand line between Pakistan and India about 57 km from Peshawar. Afghanistan border starts from Torkham. Quid-e-Azam visited this site in 1947 and gave a clue of Pak-Afghan friendship by shaking hands with the soldier across the closed border gate.
It is better to visit this place with a local person from the Khyber Agency. And give the details of your friends to fort Bala Hissar 10 days before the visit. They will inform you on the day to visit. In this way, you will be a guest of the Khyber Agency. They will brief you about the Khyber Agency fort, details of important sites, Khyber officer's rifles mess, Khattak dance, and Machini Check post. You will have to pay charges for it.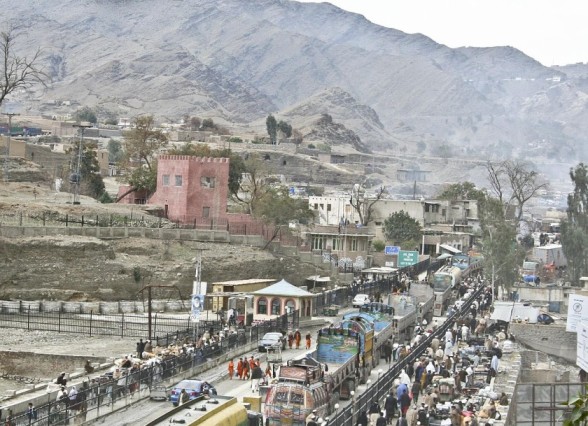 Wind Up Lines
Kyber Agency is a district of Peshawar in KPK. It has significant importance in history due to Torkham Border, Bab-e-Khyber, and many other spots.