Okara
It is situated on the GT road about 37 km from Sahiwal. It was settled in the 19th century and it has Punjab's most fertile land.
Its villages and towns are part of history. Haveli Lakha, Baseer Pur, and Deepal Pur's history in this area is about 3000 B.C. Roy Ahmad Khan Kharal and Mehar Murad are proud freedom fighters of this land.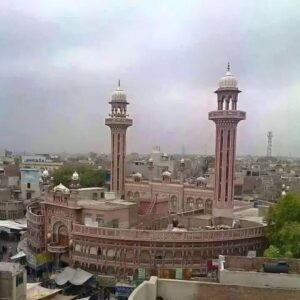 In 1982, it was transformed into a district. There are army dairy farms that are famous for delicious Cheese. This district is also famous for Neeli Ravi and Sahiwal buffaloes.  It is situated on Faisalabad Road and about 14 km from Okara.
Bahadur Nagar Livestock farm holds significant importance due to a large number of buffaloes, bulls, sheep, and goats. Okara is Asia's largest district of cold storage capacity. It is a modern city with the latest facilities of every kind.
Okara's Jamiyah Mosque is a unique mosque of its own kind. Sit Garha fort and Mir Chakar's tomb is located in Sit Garha town.
Key info about Okara 
| Heading | Information |
| --- | --- |
| Location | Punjab, Pakistan |
| Establishment | Formed as a district in 1982 |
| Area | Approximately 4,377 square kilometers |
| Population | Over 3 million |
| District Capital | Okara City |
| Languages | Punjabi, Urdu, English |
| Geography | Fertile agricultural land, part of the Bari Doab region |
| Agriculture | Mainly known for the cultivation of crops such as wheat, rice, and sugarcane |
| Industries | Agricultural processing, textiles, and small-scale industries |
| Education | Several schools, colleges, and a university campus |
| Transportation | Well-connected by road and rail networks |
| Historical Sites | Limited historical sites, but notable for its cultural heritage |
| Tourist Attractions | Local markets, parks, and recreational areas |
| Economy | Agriculture is the primary economic driver, with emerging industrial sectors |
Historical Significance
While Okara may not be renowned for ancient historical landmarks, its history is deeply rooted in the broader narrative of the Indian subcontinent. The region has witnessed the ebb and flow of various civilizations and empires. Over time, Okara has evolved from a part of the larger Montgomery District to a distinct administrative entity, reflecting the dynamic history of the region.
Famous Historical Places of Okara 
Thatta Ghulam's Dhero (Thatta Kidona)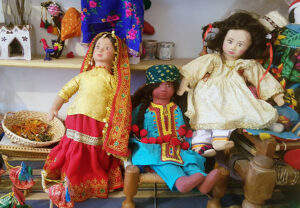 This village is situated in Okara on Faisalabad Road and holds an exclusive international status. In 1993, Doctor Centa Sills trained the girls in the village that how to make dolls.
This process continued until these dolls and toys are exhibited in the museum and theme parks of the World. Many countries in the world prefer to use Pakistani dolls in the Puppet Show.
Deepal Pur's Fort
The Deepal Pur fort is situated 17 miles away from Okara. Its foundation was led by Kind Deepal. It is narrated that Muhammad Bin Qasim also visited this place.
Famous for the army's history, it was the capital of Punjab in the past. This fort is many centuries older than Shahi fort Lahore. It is present with its historical splendor. The historical temple, Hindu inn, and the Nankana Sahib's Inn are historical buildings. People can also visit Bhamman Shah Gurdwara in suburbs.
Deepal Pur's old Shahi Mosque
Feroz Shah Tughluq built a splendid mosque. The mixture for its building was made from the mixture of beans and jaggery. Its strong walls hold history in them. It remains cold in summer.
Depalpur Sharif
A Sufi shrine dedicated to Hazrat Baba Kamal Chishti, visited by pilgrims and devotees seeking blessings and spiritual solace.
Okara Military Dairy Farm
Known as the largest military dairy farm in Asia, it's a significant center for dairy production and research.
Ghulam Mohammadabad
A town within Okara known for its vibrant bazaars and cultural significance.
Okara Baradari
A historic site with 12 gates, known as "Baradari," that once served as a gathering place and a symbol of the city's heritage.
R.C. Church Okara
A beautiful Roman Catholic church known for its architectural beauty and significance in the local Christian community.
Okara Cantt
The cantonment area of Okara, known for its well-planned layout and military presence.
Okara Railway Station
A historic railway station showcasing colonial-era architecture and serving as a transportation hub for the region.
Okara Fort
Also known as Raja Jajja Singh Fort, this historical fort stands as a testament to the region's historical legacy.
Jamia Masjid Siddique-e-Akbar
A significant mosque in Okara known for its grandeur and cultural importance.
Bharoosa Sharif
A Sufi shrine dedicated to Hazrat Baba Ji Mouj Darya, attracting devotees and visitors.
Famous Schools 
Divisional Public School and College Okara
The Educators Okara Campus
Government High School Okara
Notable Colleges 
Government Postgraduate College Okara
Superior College Okara
Punjab Group of Colleges Okara
Prominent Hospitals 
District Headquarters Hospital Okara
CMH Okara (Combined Military Hospital)
Ali Hospital Okara
Popular Restaurants 
Hot 'n' Spicy Restaurant
Food Street Okara
Chatkharay Dar Pakwan
Frequently Asked Questions (FAQs) 
What is the history of Okara District?
Okara District, established in 1982, has a history deeply rooted in the broader narrative of the Indian subcontinent. While not known for ancient landmarks, its evolution from part of Montgomery District reflects the dynamic history of the region.
What is Okara District known for agriculturally?
Okara is renowned for its significant contributions to agriculture, cultivating crops such as wheat, rice, and sugarcane. The district's fertile lands make it a vital player in Punjab's agrarian landscape.
Are there educational institutions in Okara?
Yes, Okara hosts a range of educational institutions, including schools, colleges, and the University of Okara. These institutions contribute to the intellectual growth of the community.
What are some notable landmarks in Okara?
Okara boasts historical sites like Depalpur Fort and the Haveli of Mian Khan. Additionally, landmarks celebrating agriculture include Okara Agriculture University and the Cotton Research Institute.
Are there healthcare facilities in Okara?
Yes, Okara provides healthcare services through hospitals such as District Headquarters Hospital and CMH Okara, ensuring access to medical facilities for residents.
What are the popular festivals in Okara?
Cultural festivals like Basant, the Urs of Shah Shams Tabrez, and the Okara Mango Festival are celebrated with enthusiasm, reflecting the district's rich cultural tapestry.
Are there transportation hubs in Okara?
Okara is well-connected by road and rail, with hubs like Okara Railway Station and the Okara Bus Terminal facilitating transportation within the district and beyond.
What are some famous markets and bazaars in Okara?
Okara hosts local markets like the Grain Market and Model Bazaar, providing a glimpse into the daily life and commerce of the district.
Tell me about some educational landmarks in Okara.
Educational landmarks include the University of Okara and Okara Institute of Technology, contributing to the educational landscape of the district.
Wind Up Lines
Okara is a historical city with three Tehsils. It has the honor of Punjab's most fertile land. It is famous for the production of potatoes, sugarcane, maize, and rice crops and livestock farming. The University of Okara is an educational hub for knowledge seekers.