Okara
It is situated on the GT road about 37 km from Sahiwal. It was settled in the 19th century and it has Punjab's most fertile land.
Its villages and towns are part of history. Haveli Lakha, Baseer Pur, and Deepal Pur's history in this area is about 3000 B.C. Roy Ahmad Khan Kharal and Mehar Murad are proud freedom fighters of this land.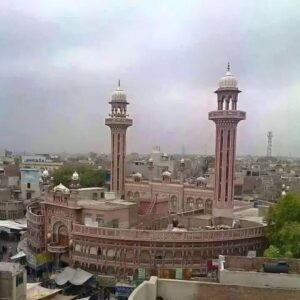 In 1982, it was transformed into a district. There are army dairy farms that are famous for delicious Cheese. This district is also famous for Neeli Ravi and Sahiwal buffaloes.  It is situated on Faisalabad Road and about 14 km from Okara.
Bahadur Nagar Livestock farm holds significant importance due to a large number of buffaloes, bulls, sheep, and goats. Okara is Asia's largest district of cold storage capacity. It is a modern city with the latest facilities of every kind.
Okara's Jamiyah Mosque is a unique mosque of its own kind. Sit Garha fort and Mir Chakar's tomb is located in Sit Garha town.
Famous Historical Places of Okara 
1- Thatta Ghulam's Dhero (Thatta Kidona)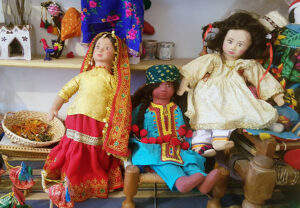 This village is situated in Okara on Faisalabad Road and holds an exclusive international status. In 1993, Doctor Centa Sills trained the girls in the village that how to make dolls.
This process continued until these dolls and toys are exhibited in the museum and theme parks of the World. Many countries in the world prefer to use Pakistani dolls in the Puppet Show.
2-Deepal Pur's Fort
The Deepal Pur fort is situated 17 miles away from Okara. Its foundation was led by Kind Deepal. It is narrated that Muhammad Bin Qasim also visited this place.
Famous for the army's history, it was the capital of Punjab in the past. This fort is many centuries older than Shahi fort Lahore. It is present with its historical splendor. The historical temple, Hindu inn, and the Nankana Sahib's Inn are historical buildings. People can also visit Bhamman Shah Gurdwara in suburbs.
3- Deepal Pur's old Shahi Mosque
Feroz Shah Tughluq built a splendid mosque. The mixture for its building was made from the mixture of beans and jaggery. Its strong walls hold history in them. It remains cold in summer.
Wind Up Lines
Okara is a historical city with three Tehsils. It has the honor of Punjab's most fertile land. It is famous for the production of potatoes, sugarcane, maize, and rice crops and livestock farming. The University of Okara is an educational hub for knowledge seekers.