Desert Thar Parkar
خالص چاہتوں کا مظھر عظیم صحرا
The district Thar Parkar accommodates a large part of Desert Thar while marshy areas and salty lakes are located in the south. Most of the people are residing in small villages. According to the 1998 census, 4.54 % of the population is living in cities.
The weather quite changes. It is hot in the daytime and the weather is windy cold at the night. Day times of April, May, and June are too much hot. And the night times of December, January, and February are famous for the freezing cold nights. August to September and December to February are the best tourist season.
Vegetables are cultivated without fertilizers and water. They are stored after drying them. They are edible for one year. One can relish the Mushroom's curry, wheat tortilla, millet tortilla(bread), Kathia curry, and Singari curry prepared from rainwater with Desi Ghee (pure form of cooking oil obtained from milk and butter).
Key information of Tharparkar:
| Attribute | Information |
| --- | --- |
| Location | Tharparkar District, Sindh, Pakistan |
| Area | Approximately 19,638 square kilometers |
| Population | Approximately 1.6 million |
| Administrative Subdivisions | 7 Talukas (subdivisions): Mithi, Islamkot, Chachro, Diplo, Nagarparkar, Kaloi, and Dahli |
| Languages Spoken | Sindhi, Seraiki, and various dialects |
| Economy | Mainly agrarian, with a focus on livestock farming and agriculture. Handicrafts and artisanship are also part of the local economy. |
| Landmarks | The district is known for its desert landscapes, including the Thar Desert, and its distinctive culture, particularly its traditional huts called "bhungas." |
| Culture | Rich cultural traditions with a unique blend of music, art, and folk stories. |
| Education | Several schools and educational institutions, although access to quality education can be a challenge in some areas. |
| Healthcare | Health facilities are present, but healthcare access can be limited in remote parts of the district. |
| Notable Feature | Tharparkar is known for its resilience in the face of arid conditions and periodic droughts, as well as its distinct way of life. |
Famous Places of Tharparkar
NAUKOT Fort
NAUKOT has the status of desert's gateway. 67 km from Hyderabad to Mir Pur Khas and 100km from there comes NAUKOT. The last station(city) of THARPARKAR, NAGAR PARKER, is at a distance of 197 km from Mirpur Khas.  The Barrage area ends at 6km from Naukot and the Desert starts here.
At the starting point of the desert, is the fort of Talpur era, which is still in good physical condition. Talpur family architectured forts in Islam Kot, Singharo, and, Mithi but they didn't get the recognition as Naukot.
Mithi
The head office of district Mithi Tharparkar has located 50 km from Naukot. When the Talpur family came to Mithi, at the beginning of the last century, they built two forts there. Besides this, they also constructed spacious residential mansions regionally known as "Gaddi".
A park, playland, restaurant, and a guest house has been built in Mithi on the traces of about 800 ft high Gaddi. It is famous for its embroidery work. Its better quality can be found in the market near "Gym Khana". On the way to Mitti, there comes the place(home) of folk singer "Mai Bhaggi". One can see Ubiquitous queues of camels there.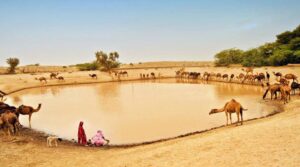 In the surrounding of Mitti, Golden hued Sand layer seems to be spread in miles. Jeeps are available for traveling in different areas beyond Mitti. Apart from these, truck-like lorries also run known as "Kakray".
Every year, the "Thar Desert rally" is organized here. Mitti is the central point of the 200 km long jeep rally. A splendid ceremony is held at the end of this four-categorized jeep rally. Winners are awarded prizes and trophies. Spectacular fireworks are exhibited at the end of this rally.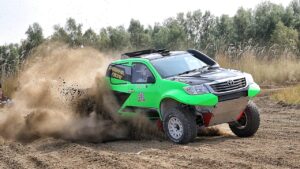 Bhalwa and Umar Marvi
It is the hometown of Marvi, who is a symbol of patriotism, Chastity, and infallibility on this land. A girl, who never accepted any oppression. Instead of a crown, she preferred to live a life full of poverty and complications.
The chief of Umar Kot belonged to the nation of Umar Somro. The People of Sindh not only considered him as a chief but also as a spiritual leader.  One day he was resolving people's issues in the court. A courtier came to him and told him about a gorgeous girl named Marvi.
She used to live in Maleer town. She was a daughter of a poor Shepherd. The chief got fascinated by the story of Marvi. He immediately took two camels and moved to Maleer Town with the courtier. This town was a few miles away from the Thar Desert.
Marvi was engaged to his First cousin, Khate. They also loved each other. But, the chief umar came between them and abducted her when she was fetching water from the well along with her friends. She kept mourning and sighing. The chief wanted to marry him. But she refused by saying "Your heaps of wealth and jewels are less than the dust of my lovers' feet". Umar ordered to keep her in prison until she agreed to marry him. However, her parents choose to pocket the insult and remained quiet. At last, khate stood up for his right. He pretended to be a beggar and managed to meet Marvi. They devised a plan to flee away. Marvi Started to meet him at the shrine outside the city. Marvi agreed to marry Chief Umar with certain Conditions. One of them was to visit the shrine with other females. In this way, she got a chance to meet Khate.
The Chief was pleased with the Marvi's consent.  So, he lifted the ban. After a few days later, Khate and Marvi took to their heels. The chief tried his best but didn't get a clue. This fable of Chastity, infallibility, and loyalty are a part of Sindhi Culture.
According to some narrators, his fiancé questioned her virginity. The king took the oath of the Quran e Pak to prove her purity. Some said that the king called her foster sister and married her from the palace.
The well from where the marvi was kidnapped is still present in Bhalwa town. These folk tales are transferred from one generation to the next generation so they are changed to some extent.
Gori
Outside the Gori village, situated in between Islam Kot and Nagar Parkar, A temple (Mandar) is located in good condition. It was constructed by a Jain broker about six hundred years ago. It is an important symbol of exceptional architectural style.
Virawah
This village is located about 24 km before Nagar Parkar. In the past, the ranger's headquarter was there. Pari Nagar village is located near Virawah. It is narrated that it was established in the 5th or 6th century and ruined about 12 times. It was an extremely populated city. Now there are the remains and a temple. Some antiques are stored in Karachi Museum.
Bhodi Sar(بھودی سر)
It is located below the Karoonjhar mountains about 5 km from Nagar Parkar in the northwest. This ancient place was famous for its fine architecture and grand buildings. A few of them are present at this time. Formerly, it was named "Bodhi Sar Nagri". It was the residence of Queen Bodhi.
She also constructed a pond of the metal base. According to historians, Sultan Mehmood Ghaznavi after conquering "Somnath" passed through this desert. He forgot the route and came to this pond for drinking water. Sodha and Khosa were the famous dacoits of this place. People complained about them in the court of Tughluq, Delhi.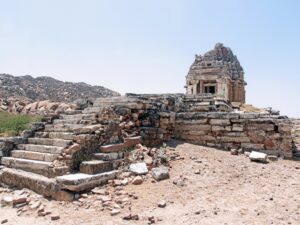 In 1504, these dacoits looted the mother of Sultan Mehmood Bigra and other passengers. In 1505, they had a war with dacoits. The sultan won the war and constructed a mosque at that place. On the coast of the pond, the Samadhi (samadhi mandir is the Hindi name for a temple, shrine, or memorial commemorating the dead) of their wives.
Nagar Parkar
Thar pakar's district Nagar Parkar is famous for its beautiful peacocks and venomous snakes. Makhan Bhagti, Sara Dhar, Yoni, Shiva, and Rampla Pir temples are phenomenal places. These buildings are considered the finest model of sub-continent masonry art.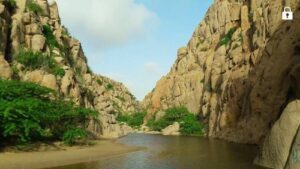 The holy pond of Hindus of the sub-continent is located here. According to Hindu books, this pond contains the water of 74 pilgrims. About 1km in the south, a huge pilgrim Ganesh is present.
A waterfall falls from the height of forty feet cow-shaped mountain top.  A temple and a spring are present at some distance from this waterfall. Hindus consider this spring's water as "Holy Water". Here at this place, A tribe is mourning the death of their prince for 700 years. Interestingly, a Pakistani movie "Ram Chand Pakistani" was filmed there.  This route goes to Mir Pur Khas. One can travel to Umar Kot by path of Gori and Chachro.
Birth Place of Mughal emperor Shahanshah and Bara Darri
Humayun fled to his relatives Tarkhan Mughal after being defeated by Sher Shah Suri. In these inconvenient and tough times, his wife Hameeda Bano gave birth to Akbar Azam on 4th Rajab. In the Umar kot, on the birth of a son, he sold diamonds and distributed the money among his servants.
After some days, Humayun moved to his maternal relatives in Iran. When Humayun occupied Delhi again, he made Bara Dari, the birthplace of Humayun. This Bara Dari is located two miles away from Umar Kot in the northwest.
Romantic Tales are also attributed to this place the Umar Kot city. One of them is about Momal Rano who's archetypal is famous as "Momal G Mari".
Umar Kot Fort
This fort was built in the 11th century during the reign of Somro. The present structure was constructed by Noor Muhammad Kulhoro in 1746. Rajput, Mughal, Kulhoro, Talpur, and Britishers used this place.
On 16 February 1887, a function was organized for the celebration of Queen Victoria's golden jubilee on the north ground of the city. A salute was given by the seven cannons mounted on the fort. A museum is also there which was established in 1968. Weapons, swords, spears, bows, arrows, royal coins, royal decree, handwritten letters, and shields are exhibited there.
Frequently Asked Questions 
What is the historical significance of Tharparkar?
Tharparkar has a historical connection to the ancient Indus Valley Civilization, and its diverse communities, including Meghwar, Kolhi, and Rajput, contribute to its rich historical tapestry.
How diverse is the culture in Tharparkar?
Tharparkar is culturally diverse, influenced by Sindhi, Rajasthani, and Thari traditions. Festivals like Holi and Diwali are celebrated with vibrant music, dance, and traditional rituals.
What languages are spoken in Tharparkar?
Languages spoken in Tharparkar include Sindhi, Thari, and Marwari, contributing to the linguistic diversity of the region.
What are the traditional crafts of Tharparkar?
Traditional crafts in Tharparkar include Ralli quilts, known for intricate designs, and pottery, showcasing the artistic prowess of the locals.
What is the architectural style of Tharparkar?
The architecture of Tharparkar features traditional mud and thatch houses that blend with the arid landscape. Historic temples and shrines add to the architectural richness.
What challenges does Tharparkar face?
Tharparkar faces challenges related to water scarcity and desertification. Socio-economic development and sustainable practices are essential for overcoming these challenges.
Wind Up Lines
In conclusion, Tharparkar unfolds as a captivating journey through time, where history and culture converge to create a unique identity. The region's diversity, expressed through its festivals, languages, crafts, and architecture, invites exploration and appreciation for the resilient spirit of its people.