Astore
Astore is an old city at an altitude of 3200 meters above ocean level. Before the creation of Pakistan, this track was used to reach Gilgit from Srinagar Kashmir. District Astore of the province Gilgit Baltistan is 115km from Gilgit City.
Silk Route  (Karakoram) Highway, turns right towards Astore from Talechi Road. The river Astore flows here along the road. Astore City has some good hotels and a small market. Its central villages are
Rama
Rahman Pur
Gori Kot
Bunji
Dashkan (Dashkin)
Chilum or Chilam
Rattu
You can reach Nanga Parbat (Rupal Face), Rupal Valley, Tarishing Valley, Deosai, and Rama Lake from Astore.
Furthermore, Chilum, Punji, Daskan, Singh Sar, Rehman Pur, Kala Pani, Minimarg, Dambabho, Domail, and Gori Kot are good tourist spots. One can reach Skardu from Chilam spot via Deosai plains, Sheosar Lake, and Satpara Lake.
You can only travel there by jeep. Minimarg, Rainbow Lake, and some other spots are considered sensitive since they are located near the Indo-Pak borderline. A special permission letter is required for visiting these areas. This letter can be obtained from the relevant army office after providing details.
The landscapes of Astore resemble the beautiful scenery in the American Cow Boy movies. Local language Shina is spoken there.
Famous Beautiful Sites of Astore City
1- Rama Lake
This lake is at an elevation of 10,800 feet above sea level. This lake, surrounded by rich green mountains remains covered with snow for about seven to eight months a year. A track is directed from here to the 8th highest peak in the world Nanga Parbat.
A jeep can be booked from Astore to reach the lake which is 8km from Astore. (A way to lead to Chilam check post on the left of Rama Lake route. You can reach Skardu by the way of Deosai). There is a PTDC motel between the thick green forests at a distance of 3km from Rama Lake.
It is the best place to enjoy two to three-day vacations. It is a good idea to reach the motel via jeep and then travel to the lake on foot. The lake is quite long. There is a rest house of the forestry department which is 3km from Rama Village. You can book it from Gilgit or Rawalpindi.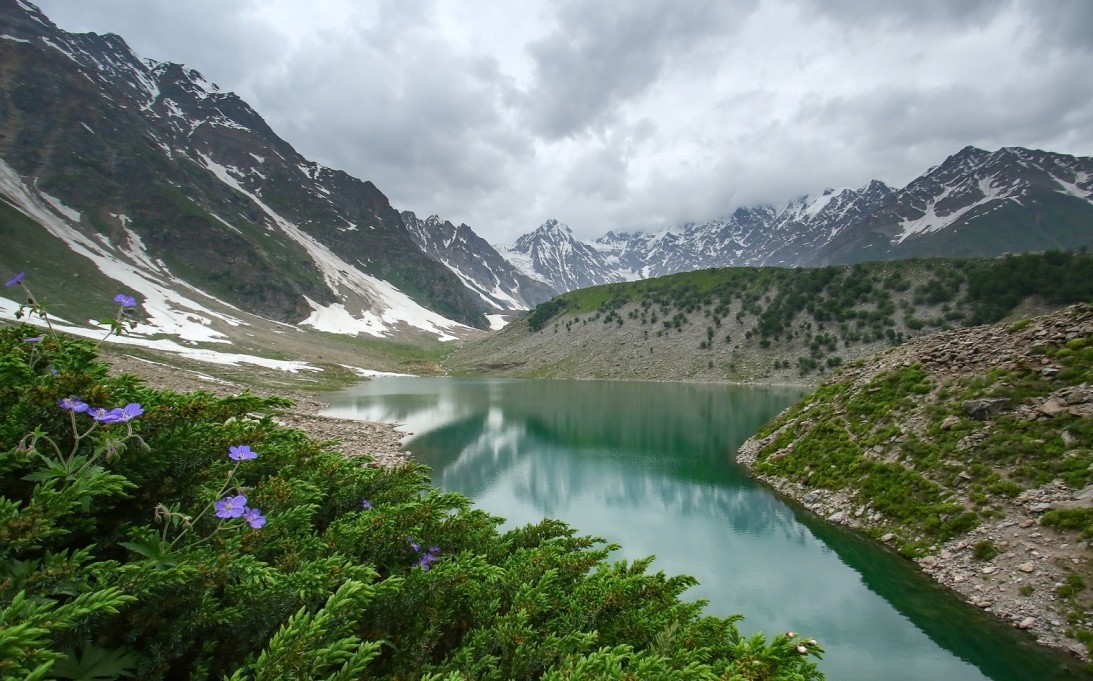 2- Tarishing Valley
Nanga Parbat shadows the whole Tarishing Valley and is surrounded by glaciers. Tarnishing, at the foothills of sky-high snow-tipped peaks (9550 feet from sea level), is 28km from Astore. You can reach Tarishing by jeep from Astore.
People can pay per person to reach Tarishing from Astore by jeep. After half an hour, a route is directed to Kargil and Deosai. This track full of adventure will captivate you. You will not get tired of the hectic journey after seeing the charming sights of Rama Peak, Chongra Peak, and Raikot Peak.
Colorful aromatic flowers and luxuriant green grass everywhere will evoke you to stay here for a day or two. There are hotels and camping facilities too.
3- Rupal Valley
Travel to Rupal Valley to fully enjoy the Tarishing Valley site. You will be astonished by the valley with flowers of thousands of kinds. You can reach here after crossing a hill and a glacier. Arang Kel of Neelum Valley Azad Kashmir looks like Rupal Valley.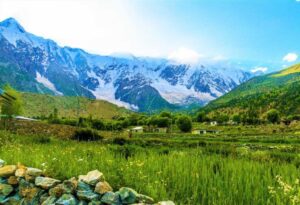 4- Sang Sar Valley
This beautiful valley has green meadows, thick green forests, and a blue water lake. The cold winds from the Siachin mountain range refresh the tourists here. The rainbow sight in the sky mesmerizes the vacationers. Sang Sar Lake is full of small glaciers and trout fish. The ice cubes in this lake look like shining stars. During snowfall, the trees covered in snow look like shy brides covered in a veil. A jeep can be hired from Astore Valley for Sangsar Valley.
5- View Point
There is a large podium on the right side of Silk Route (Karakoram) Highway at the Pari point beyond Juglot. Park the vehicle on one side. Come to the podium via a staircase. A
meeting point of the three great mountain ranges of the World (Himalaya, Karakoram, and Hindukush) has mentioned on an eight feet high and 8 feet wide wall through a picture. You will get a clear picture as you see above of the Gilgit Mountains. This scenery cannot be enjoyed anywhere else in the World.
Wind Up Lines
Astore is a beautiful Town in Gilgit Baltistan. Rama Lake, Tarishing Valley, Sangsar Valley, and Rupal Valley are well-known tourist spots.