Sialkot
Sialkot, the city settled by Raja Saal Bahan has situated 37 km from Sohdra. It is a historic city in Punjab.
Located near the river Chenab under the shadow of hills of occupied Jammu Kashmir, this thousands of years old city remained under the control of Hindus, Buddhists, Greeks, Turks, Mughals, and Siks.This homeland of the poet of East Allama Muhammad Iqbal and Faiz Ahmad Faiz is renowned internationally for sports goods and surgical instruments.This city is a recipient of "Hilal Istaqlal" in the recognition of the matchless valor of its citizens. Clock Tower in the Cantt is the center of beauty of Sialkot.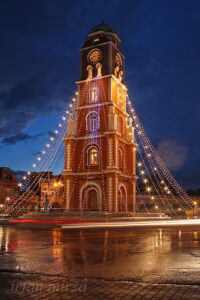 The shrine of Imam Ali Haq, traces of Sialkot fort, Jamya Mosque, Seerat Study Centre, and the local culture in the streets of Sialkot are worth watching.Gulshan Iqbal Park on Pasrur Road, Sialkot Park on Kashmir Road, and 20 away from Sialkot Head Marala works on the river Chenab are the best picnic spots.
Key Info About Sialkot
| Attribute | Information |
| --- | --- |
| Location | Sialkot, Pakistan |
| Coordinates | 32.4945° N, 74.5224° E |
| Population | Approximately 674,000 |
| Province | Punjab |
| Importance | Known for its manufacturing industry, especially sports equipment and surgical instruments. |
| Historical Significance | Believed to be one of the oldest cities in South Asia, with a history dating back over 2,000 years. |
| Economy | Major hub for manufacturing and export, particularly in sports equipment, leather goods, and textiles. |
| Culture | Rich cultural heritage with a mix of Punjabi and Kashmiri traditions. |
| Landmarks | Allama Iqbal's birthplace, Iqbal Manzil, and various historic sites. |
| Education | Home to several universities and educational institutions. |
| Transportation | Well-connected by road, rail, and air (Sialkot International Airport). |
| Major Industries | Sports equipment manufacturing, surgical instruments, leather products, and textiles. |
Famous Sites In Sialkot
Iqbal Manzil – the birthplace of Allama Muhammad Iqbal
He was born to Sheikh Noor Muhammad on 9th November 1876. The house of Sheikh Noor Muhammad (Iqbal's birthplace) is known as "Iqbal Manzil".
This house was bought by his grandfather Sheikh Muhammad Rafique in February 1861. Then in December 1892 and March 1895, Iqbal's father bought the adjacent house.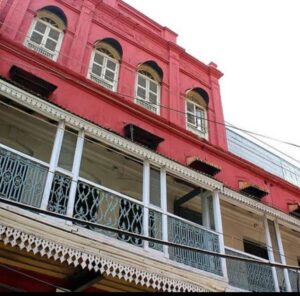 The present building was reconstructed by Iqbal's elder brother Sheikh Muhammad Atta in 1913. This renovation was done to European architecture and is still in good physical condition.
This two-floor building with ten rooms is now considered a national monument. A library has been established for the facility of Public.
His belongings like bed, study chair, inglenook fireplace, cot, box, mats, hookah, and swings are saved as a national heritage.
Here Iqbal's personal use things such as passport, bank statements, glasses, shoes, documents, and medals are exhibited in the Iqbal Museum (Javed Manzil). Iqbal Manzil is situated on Allama Iqbal road in Sialkot.
The holy Gurdwara Sahib of Sikhs "Babay di bari" and Hindu shawala are historical places.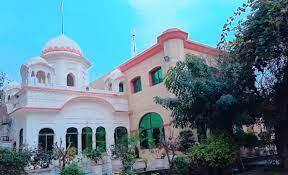 Sacred places of Hindus, Buddhism Hinduism and Sikhmat are in "Puran da kho" in the suburbs of Sialkot. The shrine of Baba Guru Nanak is in Narowal Gurdwara Kartarpur Sahib.
Chawinda
This famous historical town of district Sialkot is about 24 km from Sialkot.
In September 1965, in the Indo-Pak war, the world's biggest horrible battle of tanks was fought after World War II.
India attacked Pakistan with 600 tanks and Pakistan defended himself with 150 tanks and Chawinda was turned into a graveyard of tanks. A memorial is built in remembrance of martyrs.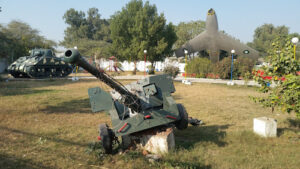 Sialkot Fort
An emblem of the city's historical significance, Sialkot Fort stands as a sentinel of bygone eras. This ancient structure reflects the architectural prowess of its time and holds within its walls the echoes of centuries of history, providing a glimpse into Sialkot's strategic importance.
Jinnah Cricket Stadium
As a city renowned for its sports manufacturing, Sialkot proudly hosts the Jinnah Cricket Stadium. This modern facility is not just a venue for cricket matches but a testament to the city's prowess in producing world-class cricket equipment, including cricket balls that are used in international matches.
Clock Tower (Ghanta Ghar)
The Clock Tower in Sialkot, locally known as Ghanta Ghar, stands as a central landmark in the bustling city. It not only serves a functional purpose but also adds a touch of colonial-era charm to the urban landscape.
Chenab River
Flowing through the Sialkot District, the Chenab River adds a touch of natural beauty to the region. The riverbanks provide a serene escape, offering a picturesque setting for those seeking tranquility amid the historical and urban landscapes.
Sialkot Cathedral Church
A symbol of religious diversity, the Sialkot Cathedral Church stands as an architectural gem. This historic church is not only a place of worship but also a reflection of the city's multicultural fabric.
Saddar Bazaar
For those eager to explore the vibrant local markets, Saddar Bazaar is a must-visit. Known for its hustle and bustle, it offers a kaleidoscope of goods, from traditional crafts to modern merchandise, providing a delightful shopping experience.
Iqbal Library and Museum
Dedicated to preserving the intellectual legacy of Allama Iqbal, the Iqbal Library and Museum in Sialkot is a treasure trove of literary artifacts, manuscripts, and personal belongings of the poet-philosopher.
Schools:
Sialkot has a wide range of schools offering education at various levels.
Notable schools include Sialkot Grammar School, Sialkot Public School, and Army Public School Sialkot.
Colleges:
Sialkot has several colleges providing intermediate and undergraduate education.
Some prominent colleges include Govt. Murray College, Jinnah Islamia College, and Sialkot Medical College.
University:
University of Sialkot, which offers undergraduate and postgraduate programs in various fields.
Hospital:
Sialkot has multiple hospitals and healthcare facilities to cater to the medical needs of its residents.
Notable hospitals include Allama Iqbal Memorial Teaching Hospital, Sialkot Medical Complex, and Khawaja Muhammad Safdar Medical College.
Restaurants:
Sialkot offers a variety of dining options with restaurants serving local and international cuisine.
Popular restaurants include Butt Karahi, Tandoor Restaurant, and Salt Bae Sialkot, which is part of the international Salt Bae chain.
Frequently Asked Questions (FAQs) 
Q: What is the significance of Allama Iqbal in Sialkot's history?
A: Allama Iqbal, born in Sialkot, holds immense significance as a philosopher, poet, and the intellectual force behind the idea of Pakistan. His birthplace, Iqbal Manzil, is a testament to this legacy.
Q: Can visitors explore historical sites related to Allama Iqbal in Sialkot?
A: Yes, visitors can explore Iqbal Manzil, the birthplace of Allama Iqbal, and the Iqbal Library and Museum, which preserves his literary legacy.
Q: What is the Battle of Chawinda, and why is it significant?
A: The Battle of Chawinda, fought during the 1965 war between India and Pakistan, was one of the largest tank battles since World War II. It took place near Sialkot and is a significant chapter in Pakistan's military history.
Q: Are there educational opportunities in Sialkot?
A: Yes, Sialkot has several educational institutions, including universities and colleges, providing diverse academic programs.
Q: How is Sialkot's healthcare infrastructure?
A: Sialkot has well-established healthcare facilities, including hospitals like Allama Iqbal Memorial Teaching Hospital and Aziz Bhatti Shaheed Teaching Hospital.
Q: What is the economic specialization of Sialkot?
A: Sialkot is renowned for its sports manufacturing industry, particularly the production of sports goods such as cricket equipment and footballs.
Q: Are there notable landmarks in Chawinda related to the 1965 war?
A: Yes, Chawinda has the Chawinda War Memorial and Chawinda Graveyard, commemorating the valor and sacrifices of the Pakistani military during the Battle of Chawinda.
Q: Where can one experience local cuisine in Sialkot?
A: Local cuisine can be enjoyed at popular restaurants like Usmania Restaurant, Food Street Sialkot, and Lahori Grill.
Wind Up Lines
Sialkot, the homeland of Allama Iqbal and the site of Chawinda's historic battle, epitomizes the fusion of intellectual brilliance and indomitable valor. It is a city where history lives in every brick, where the echoes of philosophical musings resonate alongside tales of courage on the battlefield. Sialkot and Chawinda, each in their own way, contribute to the rich mosaic that is Pakistan, offering the world a glimpse into the soul of a nation shaped by its past and forging ahead into the future.