Sanghar
Sanghar is an asset of Sindh Province. It is renowned for its historic and tourists spots which include Chotiyari lake, and Mansoura.
1- Chotiyari lake (a grouping of small and large lakes)
When the explorer of the desert becomes exhausted by seeing the large sandy hillocks and the environment seems gloomy, the water seems to be a blessing for travelers and cattle and the desert seems to be a time of spring.
Chotiyari lake is one of the exceptional lakes where all four sides have desert, trees, and wild bushes side by side. This part of Sanghar lake is 30km from the desert Thar. Well-established roads are there to reach this place. Small lakes and hillocks are located outside the Sanghar.
Bakar, Ekanowari, Tajir, Phulili, Bari, and Saunaro lakes are together named Chotiyari Lake. These lakes rise from Nara canal which is a source of water in these lakes.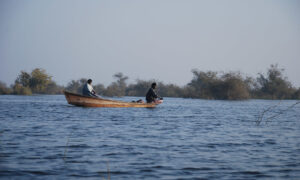 This lake was delayed due to changing of Government and finally completed in 2003. The purpose of this is to collect the water of Monson rain so that it can be used in famine. It is a source of employment for lots of unwaged fishermen. Their houses are located near the lake.
This is also a habitation for crocodiles and turtles. In the winter season, the lake seems to be in full bloom because of millions of birds migrate to this place. Marble tale named bird is noteworthy in these birds. You have to go to Shahdad Pur through Sanghar for reaching this place which is 67 km from Hala.
2-Gharang Bangla (گاڑنگ بنگلہ)
This bungalow was the residence of Hur Leader peer Sibghatullah. Located on the Mir Pur Khas Sanghar, this building was destroyed due to the bombardment of the British army during British control. This place was a headquarters for freedom fighters against British imperialism.
3- Camel Safari
The area of Ichiro Thar is an ideal place for Camel Safari. Fishing and sailing can be enjoyed during the season in  Hatharo lake. Nara Canal arising from the Sukkar barrage is a habitat for birds and crocodiles. Tile work and fresco of Khani rajor Khapro town is famous here.
4- Mansoura
Mansoora was the first Islamic Sindhi capital from 711 A.D to 1006 A.D. This place was designated as a central cantonment by Umayyad rulers and the army. In the abbasi era, its boundaries spread through Multan and Debel. Arabs developed Debel and Mansoora a lot.
On the coast of river Indus, Mansoura and Debel become the center of trade, tradition, and culture. Herbs, spices, clothes, elephant's teeth, metal, and lots of other things were sent exported to Baghdad from Mansoura. High-ranked educational institutes were established in the city.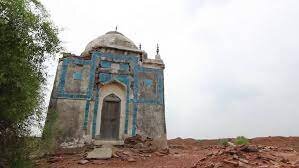 First-ever Sindhi translation of Quran e Pak was done in Mansoura. According to Geology experts, the earthquake of 893 affected Mansoura and Debel.
The remains of Mansoura are 9 km away from the Shahdad Pur district Sanghar. A bus tracking joins Hyderabad and Shahdad Pur. Shahdad Pur railway station is situated on the Main Railway line.
Wind up Lines
Sanghar city has famous historical and captivating tourists spots such as Camel Safari, chotiyari lake, and  Mansoura. Besides this, it is also famous for the cultivation of crops.