Khair Pur – A historical city of Sindh
Khair Pur, a city of profound historical significance, is nestled in the heart of Sindh, Pakistan.
Its foundation was led by Meer Sohrab Khan Talpur in 1783. Before the creation of Pakistan, it was a partially independent state. On 14th October 1955, it was affiliated with Pakistan. Shah Latif University is a remarkable educational institute there. It surrounds roughly about 16 thousand km of area, this state remained from 1775 A.D to 1955 A.D. Ali Murad Khan was its last ruler.
Old historic fort Kot D.G is also located here. The shrine of Sufi Sachal Sarmast is located in Darazan Sharif. Khair Pur is a small city in the current context. It was the largest area in the 15th century. The people of the Talpur family were famous as Mir.
It's also famous for the production of dates and the shrine of Sachal Sarmast, and Kot DG fort. Besides these, Faiz palace, Bali ka Bangla, and Thari Meer Vah are worth watching places.
Key information about Khairpur
| Aspect | Information |
| --- | --- |
| Name | Khairpur City |
| Location | Sindh Province, Pakistan |
| Population | Approximately 128,200 (as of my knowledge cut-off in September 2021; population figures may have changed) |
| Area | Approximately 15 square kilometers |
| History | Khairpur City has a rich historical background, with a legacy of former princely state rule before Pakistan's independence. |
| Geography | The city is situated in the northern part of Sindh and is known for its arid, desert-like surroundings. |
| Climate | Khairpur experiences a hot desert climate with scorching summers and mild winters. |
| Economy | The city's economy is primarily agrarian, with a focus on agriculture, particularly cotton and sugarcane. |
| Languages Spoken | The primary language spoken in Khairpur is Sindhi, but Urdu is also commonly used for communication. |
| Education | Khairpur has educational institutions, including schools and colleges, to cater to the educational needs of the local population. |
| Transportation | The city is accessible by road, and there is a railway station that connects it to other parts of Sindh and Pakistan. |
| Landmarks | Notable landmarks include the Faiz Mahal and the Tomb of Kot Diji, both of which hold historical and architectural significance. |
| Cultural Events | The city hosts various cultural events and fairs, often celebrating Sindhi traditions, music, and festivals. |
| Healthcare | Khairpur has medical facilities, including hospitals and clinics, to cater to the healthcare needs of its residents. |
| Dining | Local cuisine in Khairpur includes Sindhi specialties like Sindhi Biryani and Saag with Makai Roti. |
Exploring Khair Pur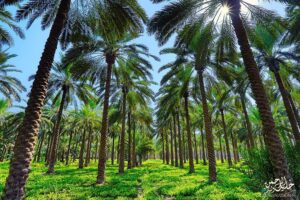 Kot D.G Fort
On 26th February 1958, in the district, Khair Pur, traces of civilization were discovered which is about three hundred years old than Mohen JoDaro. The civilizations of Harappa and Mohan jo Daro have been revealed after the detection of Kot D.G. This town was the capital during the Talpur era. Formally, this was called "Ahmad Abad".
The ruler of Upper Sindh's Empire, Mir Sohrab Khan renovated this fort in 1783. A 5 km boundary of soil was constructed around the city. This fort is located near desert Rajasthan. And it was the best source of defense from the attackers in the east.
Interestingly, no one attacked this fort. Here at this point, The River Indus flows about 40 km in the west. If you want to visit this fort, it is located 20 km from Khair Pur city in the west on the Qomi Highway.
Faiz Mahal (Faiz Palace)
In 1978 A.D, A Talpur ruler completed this beautiful palace for his residence at the cost of one lace. They enjoyed living in camps rather than fortresses. This place is a symbol of dignity for the Khair Pur Meeras. Khair Pur is famous for the production of dates.
Bali ka Bangla (Dilshad Manzil)
The ninth monarch of Khiar Pur, Noor Ali Khan fell in love with a prostitute of the brothel of Lahore. instead of making Iqbal Begum (Bali Begum) his concubine, he married her.  In 1895, he built a magnificent Bungalow exclusively for Iqbal Begum. Furnished with paintings, this building is located on station road near Girls' college. A garden decked with beautiful fountains is enhancing its charm.
Mehran Wild Life
Built-in 1970, this hunting ground is Pakistan's private wildlife sanctuary. Thousands of animals are living in this natural environment. It is located near Kot D.G.
Thari Meer Vah
District Khair Pur is famous for the production of high-quality dates. After the care of three to four years, the date tree gives fruit for the rest of its life. One can relish and earn a lot of money if he nurtures date trees in a massive quantity. Halwa(Multan famous sweets), chutney, marmalade, pickles, and biscuits are prepared from dates in the famous town of "Thari Mir Wah"  a few km away from Khair Pur City. This place is famous for its confectionery items. These items are exported to Arab countries.
Economic Landscape:
Khair Pur's economy is primarily agrarian, with a focus on agriculture, particularly cotton production. It also has a strategic location for trade and commerce.
Tourist Attractions:
Beyond its historical landmarks, tourists can explore Ranipur Wildlife Park, known for its natural beauty and diverse wildlife.
The Sachal Sarmast Shrine is another attraction, celebrating the life and poetry of the revered Sufi saint.
Schools:
Khair Pur Model School
Government Girls High School
Government Boys High School
Government Higher Secondary School
Al-Khair Public School
Colleges:
Government Degree College for Boys
Government Degree College for Women
Sindh College Khair Pur
Hashmani's College
Shah Abdul Latif University Khair Pur
University:
Shah Abdul Latif University Khair Pur
Hospitals:
Civil Hospital Khair Pur
Fatima Medical Center
Dr. Ishaq Hospital
Bismillah Hospital
Hamdard Hospital
Restaurants:
Pakwan Hotel
Dua Cafe
Chawla Fast Food
Lal Qila Restaurant
Karishma Ice Cream
Frequently Asked Questions 
What is the historical significance of Khair Pur?
Khair Pur, founded in 1783 by Mir Sohrab Khan, holds historical significance as a former princely state in northern Sindh.
What are the main historical landmarks in Khair Pur?
Khair Pur is home to historical landmarks such as Faiz Mahal and Kot Diji Fort, reflecting its rich cultural heritage.
Tell us about the cultural scene in Khair Pur.
Khair Pur boasts a vibrant cultural scene, featuring traditional Sindhi music and dance during various festivals and events.
What educational institutions are present in Khair Pur?
Shah Abdul Latif University and several schools and colleges contribute to the education sector in Khair Pur.
How is the healthcare infrastructure in Khair Pur?
Khair Pur has hospitals and clinics, ensuring residents have access to quality healthcare services.
What is the economic landscape of Khair Pur?
The city's economy is primarily based on agriculture, with a focus on cotton production, and it has a strategic location for trade and commerce.
Are there any modern amenities in Khair Pur?
In recent years, Khair Pur has seen developments in infrastructure, providing residents with modern amenities while preserving its historical charm.
What are some famous sites other than historical landmarks?
Ranipur Wildlife Park and Sachal Sarmast Shrine are notable attractions in addition to the historical landmarks.
How can I explore Khair Pur as a tourist?
Tourists can visit historical landmarks, participate in cultural events, explore wildlife parks, and engage with the local community.
Wind Up Lines
The historical places of Khair Pur make it a remarkable city. It also contributes to the economy of the country by exporting dates and confectionery items. A one-day trip can be arranged for Kot D.G, Sachal Sarmast's shrine, and Khair Pur city from Sukkar. But one must have their vehicle.