City of Sindh – Shikar Pur
The Sindh Province is enriched with historical and modern sites. Shikar Pur, is famous for its unique culture, historical places, handicrafts, and industry.
Shikar Pur
In Sukkur city, take a van from Shikarpuri gate and walk 39 km to Shikarpur on the right bank of river Indus. It is famous for pickles and sweets. Comprising of four districts, two national highways N-55 and N-65 have routes from this district. From Shikar Pur to Gawadar, M-8 is located by way of Ratto Daro.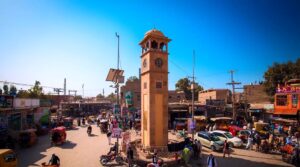 In the past, Shikarpur was an important stop for caravans going to India from Iran and Central Asia via Kandahar. In the British era, Shikar Pur lost its importance because of the development in Sukkar.
Roy Bahadur Odhadas Tara Chand hospital, Commercial college, Lakhi Ghulam Shah minaret, Dhak Bazaar, the shrine of Faqeer Ullah Alvi, Sheikh Mari, historical Shahi Garden (a part of it was established by mere veder), and clock tower (built from red tiles) are worth watching.
Shikar Pur is a big market for Carpet weaving, pottery making, and cotton cloth. The embroidery and silk embroidery work on the Gents and females' shirts, two straps of the shalwar kameez is done with great sophistication. Leather embroidery is the best gift from Shikarpur.
Also visit the historical Bohi Qabah in Dakhan village of Garhi Yasin on Indus Highway, Agha Siraj Khan Durrani's library in Overkot Durrani, Ashiyana Adab, and the adjoining beautiful park.
Wind Up Lines
Shikar Pur is not only a historical city but also famous for the food industry. Its carpets, pottery, and cotton clothes industry is also thriving. Furthermore, its historical buildings and picnic spots make this favorite among the tourists.