Bolan Mach (بولان مچھ)
Balochistan is blessed with natural beauty, historical places, mountain ranges, fruits, and minerals. Bolan Pass is a gateway to South Asia, connecting Jacobabad, Sibi, and Quetta. It is also famous for its tunnels.
Bolan Pas
This pass connects Balochistan to upper Sindh and Punjab. Both the Road and train tracks can be used for this. The interesting fact about Bolan is that the train passes through 21 tunnels and gives a thrilling feel.
Khojak Tunnel
From 1857 to 1858, Quetta, Sibbi, and Chaman railway tracks were constructed because of Russian attack threats in the subcontinent. There was a threat of a Russian attack on India from Bolan Pass. In 1850, some graves of Russians were found in the Sibi, which gives a clue of their presence.
In 1876, The Britishers conquered Quetta and its nearby areas. They devised a railway track plan from Qandahar to Sukkar. This project was initiated in 1879 but it was postponed. The railway line ended at Chaman. In this way, Chaman was the last station toward the Afghan border.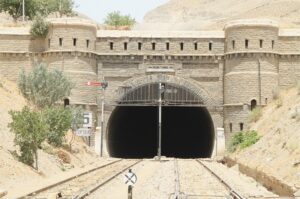 Kojak pass was a hurdle for reaching Chaman so it was changed into the tunnel. Regular work started on 14th April 1886. There was a shortage of water because of a dry mountain range in the area. 80 tons of water were brought there by train.
Many people died of Pneumonia due to cold winds during the winter season. 800 masons died because of typhoid in just four months (1890-1891). For lightening the tunnel, a large mirror is placed on the trolly and the reflection of the sun is sent to the tunnel. The tunnel gets illuminated through this process. This process is still in practice.
This tunnel has a height of 5394 feet above sea level at the Shela Bhag station which is 113 km from Quetta. Constructed in 1891, it was the largest tunnel in Asia with a length of 3.91 km. Now, the Lowari tunnel has broken this record with a length of 8.6 km.
In 1976, Khojak tunnel picture was printed on the five-rupee currency note. These currency notes remained in circulation till 2005.
Pir Gaib
About 70 km away From Quetta to Sibi, and in the middle of Bolan Pass, Mach city is famous for its dangerous jail. There is a signboard of "Pir Gaib" on the national highway about 16 km from Mach City.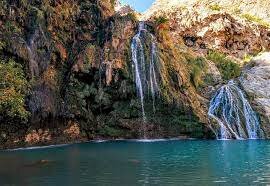 It is better to have a four-wheeled vehicle to travel beyond this area. A route directs to mountains from the center of Bolan Pass. Balochistan's famous recreational spot "Pir Gaib" is 2 km from the Khajoori village.
Here the water of spring with constant speed, flowing from the naturally made rocky ponds, making its way through mountains, falls in the form of an enchanting waterfall among the lush green palm trees.  Sitting in the shade of a nearby palm grove has its own fun.
Wind Up Lines
Bolan Pass is a pathway for traders and a tourist spot for travelers. It is a historic place of province Balochistan.