Gujrat
Situated on G.T road 15 km away from Wazir Abad, the history books give a clue about Gujarat city.
Its foundation was led by Raja Bachan Pal in 460 B.C. This land of three recipients of Nishan-e- Haider, is located between river Chenab and Jhelum.
The leading character Sohini of the romantic tale Sohni Mahiwal belonged to Gujarat.
This ancient is also renowned for craftworks and numerous departments of domestic industry.
Key Info About Gujrat PK
| Attribute | Information |
| --- | --- |
| Location | Sialkot, Pakistan |
| Coordinates | 32.4945° N, 74.5224° E |
| Population | Approximately 674,000 |
| Province | Punjab |
| Importance | Known for its manufacturing industry, especially sports equipment and surgical instruments. |
| Historical Significance | Believed to be one of the oldest cities in South Asia, with a history dating back over 2,000 years. |
| Economy | Major hub for manufacturing and export, particularly in sports equipment, leather goods, and textiles. |
| Culture | Rich cultural heritage with a mix of Punjabi and Kashmiri traditions. |
| Landmarks | Allama Iqbal's birthplace, Iqbal Manzil, and various historic sites. |
| Education | Home to several universities and educational institutions. |
| Transportation | Well-connected by road, rail, and air (Sialkot International Airport). |
| Major Industries | Sports equipment manufacturing, surgical instruments, leather products, and textiles. |
Pottery, ceramics, furniture, electric equipment, vases, hotpot, changer (a plate for keeping tortilla) hand made woolen shawls, and Sweaters, are identities of handmade and handicrafts products.
The high-quality furniture made in Gujrat is furnished in national and provincial assemblies. You will see many furniture showrooms on the way to Lala Mousa and on Gujrat Bye Pass.
The basmati rice of Gujrat is famous not only in Pakistan but also in the European market for its best quality and pleasant odor.
More than one thousand units of domestic industry of Pakistan's no 1 shoemaking company and fans production industry are operating in Gujrat.
Thousands of people of district Gujarat are settled in England, France, Greece, Canada, Kuwait, United Arab Emirates, Saudi Arabia, and Qatar for livelihood. You will find Gujrati people in almost every city in Europe.
The mausoleum of the wife of king Aurangzeb, ram piyari Haweli and Mughal Hamam, and the historical fort are worth watching places.
You can also visit the graveyard of British officers killed in the second Sikh Anglowaray near old CIA staff station, the tomb of Jahangir (where his bones were buried), and the Quran Mahal (established to save the old pieces or pages of Qur'an e Pak).
Some famous places and personalities of Gujrat
The oldest mosque in Gujrat- Eid Gah Gujrat
The Eid Gah Mosque in Gujrat stands as a venerable testament to the city's historical and cultural heritage, representing one of the oldest mosques in the region. Constructed with a timeless architectural design, the mosque's origins trace back several centuries, embodying the rich tapestry of the Islamic influence on the subcontinent.
The Eid Gah Mosque is not merely a place of worship; it is a living relic that has withstood the test of time, witnessing the ebb and flow of history in Gujrat. The mosque's significance extends beyond its architectural charm; it serves as a spiritual hub for the local Muslim community, fostering a sense of continuity with the city's past.
As worshippers gather within its historic walls, the mosque becomes a bridge between the contemporary and the ancient, allowing each prayer to resonate with the echoes of centuries gone by. The Eid Gah Mosque is not only a symbol of religious devotion but a living embodiment of Gujrat's enduring connection to its Islamic roots.
Ram Piyari Haveli
Ram Piyari Haveli is an architectural gem nestled in the heart of Lahore, Pakistan. This historic haveli, dating back to the 19th century, stands as a testament to the grandeur and elegance of Mughal-era design.
Named after Ram Piyari, the wife of a prominent Sikh noble, the haveli reflects a blend of Hindu, Muslim, and Sikh architectural influences. The intricate detailing on its façade, with ornate jharokhas (balconies), delicately carved brackets, and frescoed walls, showcases the craftsmanship of that era. The haveli once served as a residence for the elite, and its sprawling courtyards and rooms whisper tales of opulent lifestyles.
Today, Ram Piyari Haveli is not merely a relic of the past but a cultural heritage site, drawing visitors who are captivated by its historical charm. As conservation efforts strive to preserve its fading glory, the haveli stands as a silent witness to the cultural tapestry of Lahore, inviting those who step through its aged doorways to imagine the vibrant stories that once unfolded within its walls.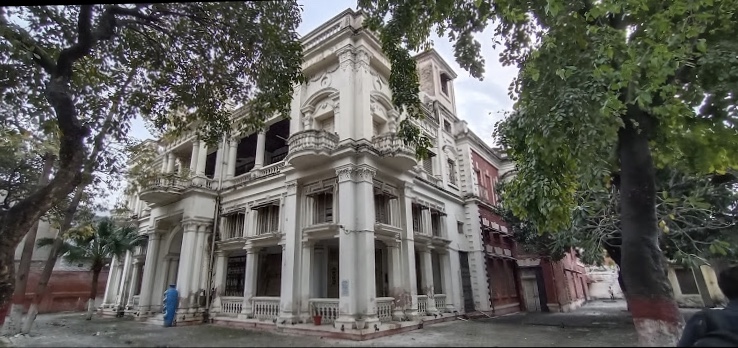 Major Raja Aziz Bhatti Shaheed (Nishan-e-Haider)
Aziz Ahmad was born to master Muhammad Abdullah Bhatti of district Gujarat tehsil Kharyan Hong Kong on 6th August 1923.
He did his matriculation in Hong Kong. He learned Punjabi, Urdu, English, Chinese, German, Bangla, and Arabic language.
Then, he got a commission in Army and received the Norman Gold medal and Sword of honor from Prime minister Liaqat Ali Khan on 4th February 1950.
During the India-Pakistan war of 1965, he was commanding on Barki Sector. He destroyed the dream of the Indian General to drink wine in Lahore by defending the BRB canal.
During this, he was martyred because of a bomb blast near him on 12 September. On 23rd march 1966, he was awarded the highest military award Nishan-e-Haider.
His dead body was brought to his hometown Ladiyan Tehsil Kharyan. Ladiyan is about 25 km from Kharyan. A memorial is built on Barki Road Lahore near the western side of the BRB canal.
Major Shabbir Sharif Shaheed (Nishan-e-Haider)
When the town Kunjah of love and romance became famous as the town of Valour and bravery, the cause was major Shabbir Sharif Shaheed Nishan-e-Haider.
He was born to Major Muhammad Sharif on 28th April 1943 in Kunjah District Gujrat. He belonged to the Rajput family.
He got an education in different institutes in Lahore, Quetta, Murree, and Rawalpindi. He went to PMA Kakol academy while studying government college Lahore. He got commission in Army in 1964 and he received a sword of honor in passing out parade.
He received Sitara-e- Jurat for his mission on the Chumb joriyan front in the Indo-Pak war of 1965. He was appointed to Fazalka Sector in the battle of 1971.
He went into the battlefield of the enemy for 2 miles. A shell from the enemy pierced him and he was martyred. He was awarded Nishan-e-Haider for his excellent service and exceptional courage. He was buried in Lahore Miani Sahib Graveyard.
His memorial is present 10 km from Gujrat Sargodha Road at the beginning of Kunjah town alongside the road.
Former Chief of army staff General Raheel Sharif is the younger brother of Major Shabbir Sharif and nephew of Major Aziz Bhatti Shaheed.
Kunjah
This homeland of Major Shabbir Sharif Shaheed Nishan-e-Haider has located 8km from the Gujrat Sargodha Road.
It was settled in the regime of Ameer Taimoor by Warraich. According to some historians, it was established by Raja Kanj Pal in 810. It was a center of literature and knowledge in the reign of Chugtai.
Sher Shah Suri transformed it into a district. Ghazi Allah Ditta Shaheed of Kunjah killed the "Ghustakh Rasool" (the one who insulted Prophet).
If you come Kunjah must taste the desserts of Kaka Sweets. There is an old Bara Dari near the police station.
The village Hella name is dedicated to the beloved daughter Helen of the great Alexander, Jesic village Gurdwara Sahib is there in Kunjah.
Take a tour to 400 years old ancient mosque of the Mughal regime and temple in Qila Dar village. 700 years old Suleimani mosque is located 10 km before Kunjah on the way to Mandi Bahauddin. A sacred Gurdwara Sahib of Sikh is also there.
Major Muhammad Akram Shaheed
The town Dinda Tehsil Kharian which was once famous for its sweet Fennel Seed is now associated with Major Muhammad Akram Shaheed. He was born on 4th April 1938 in Dinga Kharian.
He passed the 9th Class exam and joined army as an Amateur. He passed the special army test and was promoted to the Lance Naik rank. In 1961, he went to PMA Kakul for a regular commission.
He was unable to pass the academic courses but was appointed as Cadet Sargent because of his skills. Later on, he made progress and reached the Major rank.
In the war of 1971, he was commending frontier force regiment company in the district Heli of East Pakistan. He lost his life in defending his beloved country on 13th December 1971 in the Denaj Sector.
The government of Pakistan bestowed him "Nishan-e-Haider" as an acknowledgment of his gallantry and courage.
He was buried in Khakiko Bogra in East Pakistan (current Bangladesh) due to some reasons. A memorial to Major Muhammad Akram is built on Ketcheri Chowk Gujrat city and on Shandar Chowk in Jhelum city.
The tale of Sohni Mahiwal
Sohni belonged to Gujrat city While Mirza Izzat Baig alias Mahiwal belonged to Balkh Bukhara. He used to come to India for trade.
According to traditional stories, he had an access to the court of Mughal emperor Shah Jahan. He stayed in Gujrat for some days during his visit to India.
The earthenware of Gujrat was famous far and wide. He sent one of his employees to bring a mud utensil. The employee went to the shop of Sohni's brother Tulla Shop. He saw Sohni there and told his owner about the gorgeous Sohni on his return.
Mirza Izzat Baig became interested in her. He went to Sohni's home under the pretext of buying utensils. He saw a glimpse of her and fell in deep love.
After that, he used to buy daily utensils to see her and sell them at low prices. He lost all his wealth by selling utensils at low prices and on loans.
All his friends left him after he lost his affluence. They went to his father and told him about the whole incident. During this, Izzat Baig became indebted to Sohni's father. He started grazing buffaloes of Sohni's father Tulla to pay off his debts.
In the Punjabi language, a person who grazes buffaloes is called "Mahiwal". In this way, Izzat Baig became the Mahiwal. One day, he told Sohni about his feelings. She also loved him. And they started meetings in the meadows of the river Chenab.
Their love story became famous in the village and her father kicked off Mahiwal from the job. He married Sohni to another man.
In those days, the river Chenab used to flow near Gujrat. Mahiwal built a hut on the bank of the river and he used to live there. He used to catch the fish daily, roasted it, and gave it to Sohni by crossing the river.
One day, he didn't find a fish due to the flood. He cut his meat from his leg, roasted it, and went to meet her. She tasted the roasted meat and told him that it was not fish meat. Then, Mahiwal saw his leg to her.
She felt so gloomy. She stopped him from visiting her. She decided to meet him by crossing the river in a pitcher.
One day, her sister-in-law caught him while meeting Mahiwal. She got furious. She replaced the pitcher with an underdone pitcher.
She sat in the pitcher and went into the river. The pitcher broke in the center of the river. Mahiwal jumped into the river to save Sohni. They were unable to swim and drowned.
The river embraced them forever. Today, Gujrat city is known as the city of "Sohni". In the pottery shops, a utensil named Sohni's pot is sold. The people purchase this pot with great desire and love.
Schools in Gujrat
City School Gujrat
Divisional Public School Gujrat
Gujrat Grammar School
The Educators School
The Educators Junior Gujrat
Beaconhouse School System
Army Public School and College
Colleges in Gujrat
Government College Gujrat
Superior College Gujrat
Punjab College Gujrat
The Superior College
Jinnah Islamia College
Gujrat Institute of Management Sciences (GIMS)
University in Gujrat
University of Gujrat (UOG)

UOG offers a wide range of undergraduate and postgraduate programs.
Hospitals in Gujrat
Aziz Bhatti Shaheed Teaching Hospital
CMH Gujrat
Aziz Bhatti Shaheed District Headquarters Hospital
Social Security Hospital
Al-Khidmat Hospital
Ahmed Medix Hospital
Restaurants in Gujrat
Salt Bae Steakhouse
Savour Foods
Pizza Hut
Subway
Lal Qila Restaurant
Sky Grill Gujrat
Al-Habib Restaurant
Frequently Asked Questions (FAQs) 
What is the historical significance of Gujrat?
Gujrat boasts an ancient history, with traces dating back to ancient times. Notably, it's associated with the great warrior Porus who confronted Alexander the Great.
What are some famous places to visit in Gujrat?
Gujrat is adorned with iconic places, including Riverside Park along the Chenab River, Gujrat Fort reflecting historical charm, Gujrat Clock Tower adding colonial-era allure, and Lala Musa Railway Station with architectural elegance.
Who are some distinguished personalities associated with Gujrat?
Gujrat has been home to notable figures like Sir Syed Ahmed Khan, the visionary behind Aligarh Muslim University; Majid Nizami, a renowned journalist; and Zaheer Abbas, the legendary cricketer and former captain of the Pakistani cricket team.
How has Gujrat evolved into an economic hub?
Gujrat has become an economic powerhouse, particularly in the manufacturing sector. It is well-known for the production of ceramics, pottery, and fans.
What contributions have personalities like Sir Syed Ahmed Khan made to Gujrat?
Sir Syed Ahmed Khan, associated with Gujrat, has made significant contributions to education and is celebrated for founding Aligarh Muslim University, a pioneering institution in the region.
What cultural vibrancy does Gujrat offer?
Gujrat is culturally vibrant, with a rich scene of traditional music, dance, and festivals. Local markets showcase the city's artistic heritage through traditional crafts.
Tell us about the economic industries in Gujrat.
Gujrat thrives in manufacturing, particularly in ceramics, pottery, and fan production. The entrepreneurial spirit of the city has contributed to its economic dynamism.
How has Majid Nizami influenced journalism in Gujrat?
Majid Nizami, born in Gujrat, left an indelible mark on journalism. His role as the former editor of Nawa-i-Waqt and his advocacy for national causes have had a lasting impact.
Can visitors explore historical landmarks related to Gujrat's past?
Certainly, visitors can explore Gujrat's historical landmarks such as Riverside Park, Gujrat Fort, Gujrat Clock Tower, and the Lala Musa Railway Station, each with its unique historical significance.
What is the legacy of Zaheer Abbas in the world of cricket?
Zaheer Abbas, a cricket legend from Gujrat, is renowned for his prolific batting and leadership. His contributions to Pakistani cricket have left an enduring legacy in the sport.
Wind Up Lines 
Gujrat is an industrial city in Punjab Pakistan. It is the homeland of brave and courageous people. Gujrat is connected to all the major cities of Pakistan and hence plays a major role in the economy.